Weblog #1448
Thursday 2009-05-28 19:37
Author: Ingmarie Nilsson
Bak-torr
Blöt cykelsadel är inte kul.


Funkar si så där med att trä en plastpåse över den.

Torka av med handen funkar dåligt.
Torka av med papper är däremot ett bra alternativ. Om man har lyckats få med sig något...

Därför tyckte jag den här reklamgrejen var himla käck!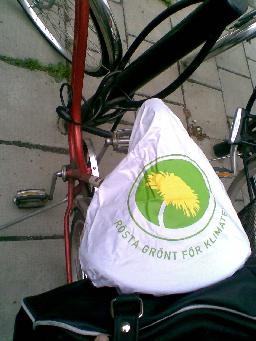 Oavsett om man nu gillar MP eller inte så funkar sadelöverdraget kanonbra!
Gratis var det med. :-)

Och det går ju faktiskt att vända ut och in på det om man vill.
Det viktiga är trots allt att rumpan inte blir blöt. :-)

No comments yet to "Bak-torr"
Add comment
No HTML allowed, only good old plain text. The Name, Comments and CAPTCHA fields are mandatory. Note that http:// will be added automatically to your URL.