Weblog #1664
Monday 2009-08-10 19:46
Author: Ingmarie Nilsson
En slags konst
Förstå vilken super-extrem lyx det är här när mitt nattlinne ligger vikt på det här viset på den perfekt absolut veck-fritt bäddade sängen.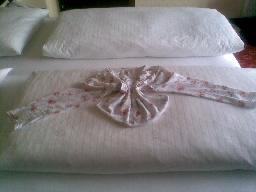 Som en mycket vackert vikt servett.
Ett konstverk utan dess like!

Lite annorlunda mot hemma....
No comments yet to "En slags konst"
Add comment
No HTML allowed, only good old plain text. The Name, Comments and CAPTCHA fields are mandatory. Note that http:// will be added automatically to your URL.