Weblog #1683
Sunday 2009-08-16 10:01
Author: Ingmarie Nilsson
Vilken TUR...
...att vi inte alltid bor så här trångt.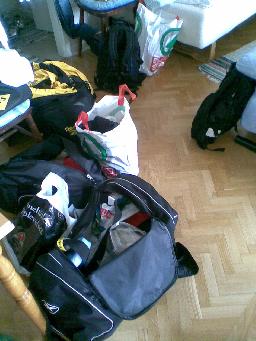 Undra hur länge vi skulle stå ut utan att vilja kasta stekpannan på varandra...?
3 comments to "Vilken TUR..."
Sunday 2009-08-16 10:19
Sv: jo. Bortsett ifrån att jag har kondis som en kolgruvearbetare och det faktum att jag tycker att löpning är tråkigare än att titta på Golf så spelar även det faktum att jag fick ett knä söndersparkat när jag tränade kung-fu viss roll...
Jag kommer ALDRIG att springa.
Sunday 2009-08-16 10:21
BTW: SKITKUL! Om du hänger på! Du är välkommen oavsett om du cyklar eller springer. :-D
Skall du ha övernattningsplats?
Sunday 2009-08-16 18:09
Fisken; TACK för erbjudandet! Du skulle dock storkna med mitt sällskap. Tänk hur mycket träning, löpning, träning, löpning, trä...o.s.v jag skulle babbla om. En en öl/fika på din nya fina altan vore förstås fint....;-) Kung-fu? Sparka sönder knäna så där. Borde heta kung-FY i stället.
Add comment
No HTML allowed, only good old plain text. The Name, Comments and CAPTCHA fields are mandatory. Note that http:// will be added automatically to your URL.