Weblog #1704
Saturday 2009-08-22 15:39
Author: Ingmarie Nilsson
Ockupation
Nilsson-Gustafson är ute och reser igen.


Med SJ till västkusten och Götelalalalaborg.

Betalar man snordyrt för biljetterna ska man väl även få ta mycket plats?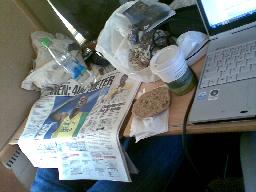 No comments yet to "Ockupation"
Add comment
No HTML allowed, only good old plain text. The Name, Comments and CAPTCHA fields are mandatory. Note that http:// will be added automatically to your URL.