Weblog #1725
Saturday 2009-08-29 18:19
Author: Ingmarie Nilsson
Lördagsgodis
Fortsätter min kloka (eller för all del om du så vill, mesiga) upptrappning av löpningen. Festade med hela 5 minuter i dag.
Sju gånger. :-)
Med lite gång dess emellan.
(Vill ju inte bli bakis...)


Och det gick fint!

Måste erkänna att de (fötterna alltså) är lite ömma (efteråt) men poolen tog bort det mesta av det, och med de smarta pilotterna och mina supersulor så är fötterna ganska glada igen.

Lika försiktig som jag är att börja springa igen, lika försiktig är Elvira.
I synnerhet ute.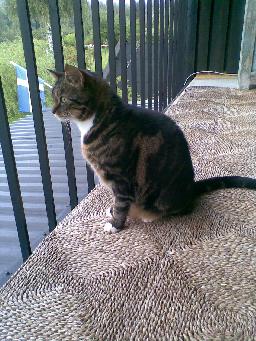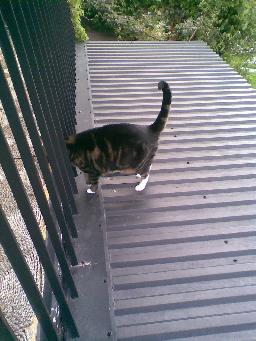 Photo: Ingmarie Nilsson


Min plan är att springa varannan dag nu och sakta trappa upp.
På måndag kanske jag vågar gå loss på hela 10 minuter åt gången.

Behöver man vätskebälte då? ;-)
4 comments to "Lördagsgodis"
Sunday 2009-08-30 00:38
Kissemisse!
Sunday 2009-08-30 09:26
Markus; :-D
Sunday 2009-08-30 12:24
JAG skulle definitivt behöva vätskebälte, om jag skulle spring i ett i tio minuter! ;0)
Eran kisse är sååå söt!!

ACB
Sunday 2009-08-30 15:34
ACB; Ha ha det tror jag INTE. Du kan ju traska i timmavis!
Add comment
No HTML allowed, only good old plain text. The Name, Comments and CAPTCHA fields are mandatory. Note that http:// will be added automatically to your URL.