Weblog #504
Friday 2008-09-26 20:33
Author: Ingmarie Nilsson
Någon skum brist?
Nu blir det väl kanske ännu större risk att jag blir klassad som tokig men det får jag bjuda på.


Undrar just om det finns någon mer i hela världen som gillar tunnelbanelukten?

Jag fullkomligt älskar den!
När jag cyklar förbi t.ex. Gamla Stans station börjar jag mer eller mindre hyperventilera.

Nere, för det är ju oftast nere, på stationerna står jag och njuter av lukten.
De flesta andra verkar vilja andas så lite som möjligt.

Jag är lika tokig i lukten vid (vissa) järnvägsspår.
Den där doften som är en slags blandning av tjära, trä och järnvägsspår.

Är det någon vitamin- eller mineralbrist jag har?
Kanske rent av ett överskott av något?

Eller är jag "bara" konstig? ;-)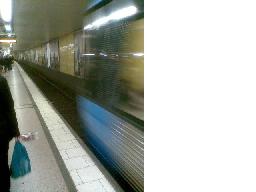 2 comments to "Någon skum brist?"
Friday 2008-09-26 20:59
Du kanske skulle söka jobb som tunnelbaneförare eller biljettkontrollant. Själv gillar jag rosendoft (lite mer klassiskt kanske=))
Saturday 2008-09-27 09:29
Ska jag vara ärlig har jag funderat på det...
Add comment
No HTML allowed, only good old plain text. The Name, Comments and CAPTCHA fields are mandatory. Note that http:// will be added automatically to your URL.