Weblog #632
Sunday 2008-11-02 18:59
Author: Ingmarie Nilsson
Söndagsmys
Vid fyrasnåret på eftermiddagen börjar det bli mörkt här i Falun nu.


Jag gillar det inte men det är absolut inget jag kan göra något åt.
Tyvärr...
Snön är en välsignelse för den gör verkligen skillnad. Allt blir liksom mjukare och mysigare.
Vi tänder massor av ljus här hemma och älsklingen har installerat "timers" så vi slipper komma hem till totalt mörker på kvällarna.

I kväll blev det extra mysigt.
Och trevligt!
Stämde träff med vännen Maria för en fika på Kopparhatten.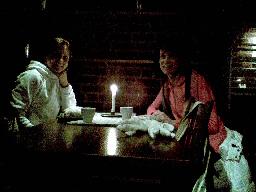 Så mycket att prata om.
Så mycket att se fram emot.
Så mycket att fundera på.

Tack min underbara, underbara vän.



1 comments to "Söndagsmys"
Monday 2008-11-03 13:47
Tack själv vännen! Värsta julstämningen nästan. :)
Du är allt en riktigt go tjej du.
Kram kram M
Add comment
No HTML allowed, only good old plain text. The Name, Comments and CAPTCHA fields are mandatory. Note that http:// will be added automatically to your URL.