Weblog #636
Tuesday 2008-11-04 09:45
Author: Ingmarie Nilsson
Rivstart
Vet inte vad som flög i mig i går kväll, men jag bestämde mig för att testa något nytt.


Grand Spa & Sport har nämligen "spinningvecka" vilket betyder att du kan testa alla spinningklaser gratis.
Även de kl. 07 på morgonen.
Så det var det jag gjorde!
(Elvira tittade väldigt konstigt på mig när jag gick upp typ "mitt i natten".. Inte ens hon var hungrig!)

Per Dicander, triatlet tävlandes för Dalregementet, höll i passet.
Jättebra pass men jag är allt lite för seg vid den tidpunkten.
För seg för att kunna ta i riktigt ordentligt.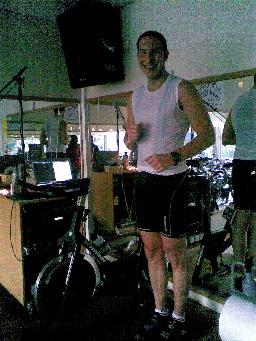 Men det var absolut inte avskräckande så jag kommer garanterat att göra det igen.
Men kanske inte i morgon bitti precis..;-)
No comments yet to "Rivstart"
Add comment
No HTML allowed, only good old plain text. The Name, Comments and CAPTCHA fields are mandatory. Note that http:// will be added automatically to your URL.