Weblog #652
Sunday 2008-11-09 00:13
Author: Ingmarie Nilsson
Grattis Maria!

Maria Lundgren var den enda svenska dam som startade och hon kom på fina 18:e plats med tiden 8:27:36.

Helt otroligt!

Tiden är dessutom en ny svensk toppnotering för damer med 30 minuter.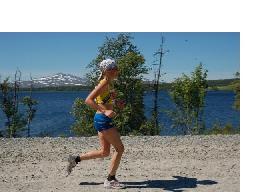 2 comments to "Grattis Maria!"
Tuesday 2008-11-11 07:59
tack min vän!
ja e nog bara tillräckligt galen för att utsätta mig en sån här grej...
och envis .. har svårt att ge upp och bra på att tänka positivt
sen verkar ju kroppen vara av segt virke

vi måste träffas så jag får berätta... för nån som förstår.

kram
Tuesday 2008-11-11 09:28
Galen är du INTE men envis-ja!:-)
Vi kommer nog ganska snart att åka till S. så vi kan ses! Eller ska du neråt?
Add comment
No HTML allowed, only good old plain text. The Name, Comments and CAPTCHA fields are mandatory. Note that http:// will be added automatically to your URL.