Weblog #689
Sunday 2008-11-16 14:26
Author: Ingmarie Nilsson
Filmtajm
Filmen "The Contract" med bl.a. Morgan Freeman och John Cusack blev det hos oss i går kväll.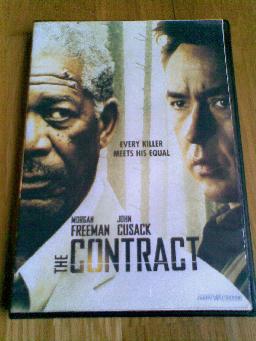 Lönnmördaren Frank Cordell (Freeman) kommer flytande i floden med den döende polisen som fängslat honom.
Han räddas av Ray Keene (Cusack) som hjälper dem ur vattnet.

Keene ska föra Cordell tillbaks till myndigheterna och får därför avbryta campingturen han var ute på med sin son.

Naturligtvis är det inte bara för Keene att ta bilen och köra tillbaks Cordell. Många är på jakt efter Cordell och de jagas runt i den djupa skogen medan regnet strilar.
FBI blir snart inkopplat men även där pågår ett spel under gallerierna.
Dessutom blir Keenes son kidnappad.

En sann action-thriller, och gillar du "katt-och råtta-jakter", pang-pang och lite, lite love så kommer du säkert att gilla den här filmen.

Jag var ganska besviken. Gillar verkligen Morgan Freeman och han är egentligen lika bra som alltid.
Det är filmen som haltar.
Den fångar (!) mig aldrig.

Ingmaries betyg:
2 av 5.


No comments yet to "Filmtajm"
Add comment
No HTML allowed, only good old plain text. The Name, Comments and CAPTCHA fields are mandatory. Note that http:// will be added automatically to your URL.