Weblog #731
Tuesday 2008-11-25 12:29
Author: Ingmarie Nilsson
På väg söderut
Inte så långt som till sol och värme, men ändock.
Halmstad ligger ju faktiskt söderut.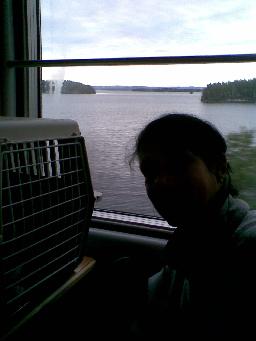 Ska bli härligt att träffa familjen igen!
Åh vad jag längtar!!

När jag väl kommit på tåget, det är inte helt lätt med min gigantiska resväska och Elvira, kom jag på att jag hade fel brallor på mig.
I stället för mina fina manchesterbyxor, de hänger fint kvar på stolen där hemma, så har jag fortfarande mysbrallorna på mig.
Det var de jag hade när jag cyklade till och från poolpasset på Lugnet nämligen, och de är alltså fortfarande på.

Så blir det när man har bråttom och huvudet under armen...

Men det är ju tur att jag inte är byxlös. ;-)
1 comments to "På väg söderut"
Tuesday 2008-11-25 12:31
Du är för härlig!!!

Längtar också !!!

Kram
Add comment
No HTML allowed, only good old plain text. The Name, Comments and CAPTCHA fields are mandatory. Note that http:// will be added automatically to your URL.