Weblog #748
Saturday 2008-11-29 16:49
Author: Ingmarie Nilsson
Husinspektion
Min äldsta lillebror, Lasse och hans Hanna har nyligen köpt en gård en bit utanför Halmstad.



Lasse är alltså en av mina tre helbröder.
Du hänger väl med i svängarna? ;-)
Släkten är som sagt var stor.

När jag var liten tyckte jag, vilket jag antar är ganska vanligt när det bara är fyra års ålderskillnad, att Lasse var en riktig "pain in the ass".
Men det gick ju över. ;-)
I dag fullkomligt avgudar jag ungen!
Lasse har varit ett av mitt livs största stöd och det finns inget jag inte skulle göra för honom.
Inget!

Hur som helst.
Jag, Anders och Daniel (helbror nummer 2) åkte ut för att kika på projektet i eftermiddags.
För ett projekt är det.
Hela huset renoveras, hundhus håller på att byggas och uthus ska fixas innan det (mesta) är klart.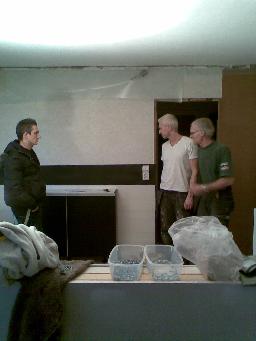 Planen är att deras kennel ska utökas med ett hundpensionat och senare även kattpensionat.
Det kommer ganska säkert att komma till några hästar med.

Det kommer att bli hur bra som helst!
Och jag är jätteglad för att de lever sin dröm.
Modigt, härligt, roligt, strålande och fullkomligt underbart!
No comments yet to "Husinspektion"
Add comment
No HTML allowed, only good old plain text. The Name, Comments and CAPTCHA fields are mandatory. Note that http:// will be added automatically to your URL.