Weblog #750
Sunday 2008-11-30 10:52
Author: Ingmarie Nilsson
Superduper lördag
Åh vilken underbart rolig lördagskväll det blev i går!


I princip brukar mamma och Ulf alltid fixa till en syskonträff när jag är här nere i Halmstad.
Det är inte alltid alla kan, kan ju vara svårt att få ihop allas scheman liksom, men det är alltid fantastiskt kul!


Vi blir ju en del med alla respektive, men du vet hur det är.
"Finns det hjärterum, finns det stjärterum". :-)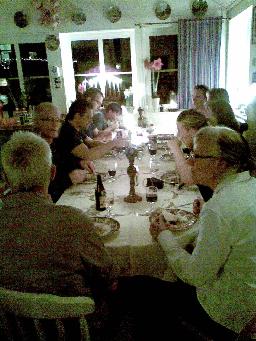 Photo: Ingmarie Nilsson


Mer bilder kommer men nu ska jag, Anders, Elvira och Daniel dra norrut med Silverbullet #1.
Daniel hoppar av i Göteborg, jag och Elvira fortsätter med tåg till Falun och Anders kör vidare till Stockholm.
Hej å hå!
2 comments to "Superduper lördag"
Monday 2008-12-01 18:35
Jäkla typsikt att man missad träffen! Men nästa gång så är jag med =)
Monday 2008-12-01 21:23
Ja det hoppas jag verkligen! Du och Lina! :-)
Add comment
No HTML allowed, only good old plain text. The Name, Comments and CAPTCHA fields are mandatory. Note that http:// will be added automatically to your URL.