Weblog #1133
Monday 2009-03-02 16:40
Author: Ingmarie Nilsson
De fyrbenta
Så länge jag har känt Pat och Trish har de funnits här.
Dogsen Toto and Whiz.


Tyvärr börjar Toto tackla av rejält.
Han har epelepsi och svår värk trots att Trish sköter honom som ett barn och ger alla möjliga olika sorters medikamenten och behandlingar.

Whiz däremot tror att han fortfarande är valp trots att han är äldst!
Räknade att han måste vara åtminstone 12 år.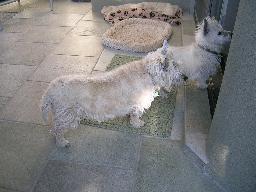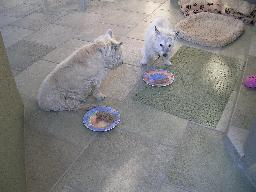 Photo: Ingmarie Nilsson
No comments yet to "De fyrbenta"
Add comment
No HTML allowed, only good old plain text. The Name, Comments and CAPTCHA fields are mandatory. Note that http:// will be added automatically to your URL.