Weblog #1257
Friday 2009-04-03 06:14
Author: Ingmarie Nilsson
Fullt ös direkt
Han har det inte lätt.
My darling. ;-)


Ingen rast och ingen ro.
Drog med honom till S&W-gymet redan första dagen.
(Fast jag vet att han faktiskt gillar stället så det var ingen jättestor uppoffring från hans sida.).

"Min" kontakt Sunee på S&W är inte bara söt och trevlig, hon hade dessutom fixat så att Anders skulle få ett (gratis) gästpass under veckorna han är här.
Det kallar jag service!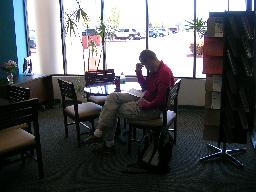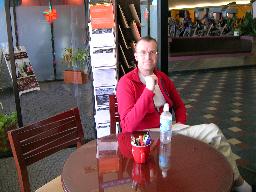 Photo: Ingmarie Nilsson



Albuquerque har visat sig från en av sina allra bästa sidor (den vanligaste sidan alltså) med strålande sol från en klarblå himmel och perfekt temperatur.
Det har blivit både träning (för mig) och en del turer runt staden.
Bl.a. åt vi en kalaslunch på Wholefoods Market och Anders fick en guidad tur av Connor i fäktningens (underbara) värld.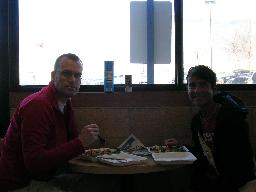 Photo: Privat
No comments yet to "Fullt ös direkt"
Add comment
No HTML allowed, only good old plain text. The Name, Comments and CAPTCHA fields are mandatory. Note that http:// will be added automatically to your URL.