Weblog #1318
Monday 2009-04-20 16:41
Author: Ingmarie Nilsson
THE pjux
För dig som är flitig läsare så vet du att det blivit en hel del inköp av nya

skor

.


Och de här är mitt senaste fynd!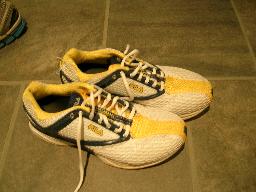 Har aldrig sprungit i FILA-dojjor innan, inte ens provat, men jag kände direkt att de var som gjorda för mina fötter!
Som att studsa fram på moln!
Galet sköna!
Och billiga!
$50.
Ett riktigt kap med andra ord.

Finns de i Sverige?
2 comments to "THE pjux"
Monday 2009-04-20 20:17
Fina var de också=)
Tuesday 2009-04-21 07:21
Ja de är riktigt najsa! :-)
Add comment
No HTML allowed, only good old plain text. The Name, Comments and CAPTCHA fields are mandatory. Note that http:// will be added automatically to your URL.