Weblog #1414
Sunday 2009-05-17 09:21
Author: Ingmarie Nilsson
Ofattbart
Jag må vara korkad, men det får vara okej, för det här fattar jag inte.


Surfar med trådlöst modem.
Sitter helt stilla med datorn i 08-land flera våningar upp i luften.

Borde vara busenkelt för alla signaler att hitta hit.

Så plötsligt bara försvinner anslutningen.
Ingen täckning.
Och jag som inte ens har nuddat modemet.

Flyttar mig för att finna en plats där jag blir ansluten igen men går bet.
Sätter mig där jag satt innan och då är där kanontäckning igen!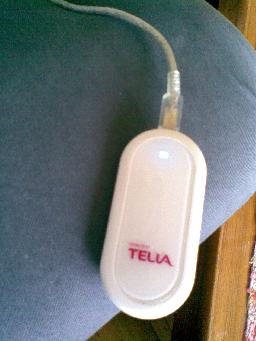 So tell me, du som vet.
Hur i hellskotta kan det bli så här?
För inte kan väl signalerna blåsa bort?
No comments yet to "Ofattbart"
Add comment
No HTML allowed, only good old plain text. The Name, Comments and CAPTCHA fields are mandatory. Note that http:// will be added automatically to your URL.