Weblog #1431
Friday 2009-05-22 14:18
Author: Ingmarie Nilsson
Hemmajobb
En del undrar nog om det inte är trist att sitta hemma och skriva.
Ensamt, asocialt och lite långtråkigt så där.


Men så är det absolut inte!
Jag har ju världens bästa jobbarkompis här!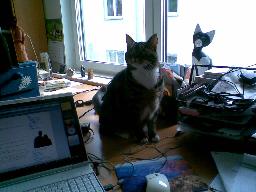 Dessutom jobbar jag ju inte bara hemifrån så lite social är jag med mellan varven.
Åtminstone så pass ofta att jag inte har börjat prata med väggarna.

Ännu... ;-)
2 comments to "Hemmajobb"
Friday 2009-05-22 17:31
Skönt att höra att det är fler som jobbar idag. Känner mig rätt själv här på labbet. Men nu ska jag också gå hem. En jobbardag mellan 07:00-17:30.
Friday 2009-05-22 18:14
Caroline; Jisses vilken lång dag! Så mycket har INTE jag jobbat i dag. Du är en kämpe!
Add comment
No HTML allowed, only good old plain text. The Name, Comments and CAPTCHA fields are mandatory. Note that http:// will be added automatically to your URL.