Weblog #1532
Monday 2009-06-29 21:10
Author: Ingmarie Nilsson
En drömtillvaro
Tänk om varje dag kunde vara så här.
Som i dag.


Träna (d.v.s. springa) under den värmande solen.
Lunch i gröngräset samtidigt som pigmentet mättas ännu lite till.


Sova en stund.
Bada.
Läsa.
Äta glass.
Bada lite till.
Äta lite mer glass.
Träna en gång till för att även bygga på den övre halvan av kroppen så att det åtminstone går att ana att det finns några små (sill)muskler även där.
Sitta på den kvällsljumma balkongen och jobba lite. (Med betoning på lite..)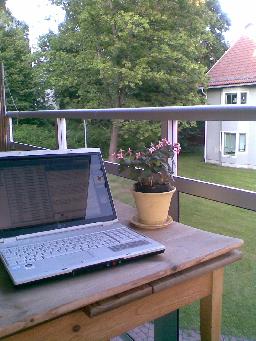 Photo: Ingmarie Nilsson


Tänk så himla enkelt livet kan vara.
No comments yet to "En drömtillvaro"
Add comment
No HTML allowed, only good old plain text. The Name, Comments and CAPTCHA fields are mandatory. Note that http:// will be added automatically to your URL.