Weblog #1544
Friday 2009-07-03 16:28
Author: Ingmarie Nilsson
Den kom igen - solen
Det blev ganska bra ändå.


Fortfarande varmt och bara lite regn (så där att jag hann bli plaskblöt...) under tiden som jag sprang, men lagom tills jag hojjade iväg till badet kom solen.

Och benen riktigt pigga!

Lovar gott inför morgondagen för då är planen att få en nummerlapp på bröstet! :-)

Nu sitter jag på tåget hem till Falun igen.
Och jag sitter extra fint i 1:a klass.

Förvisso inte X2000-tåg, utan ett "vanligt" inter-city, men faktum är att jag gillar nog dem mer!
(Och då menar jag 1:a klass vagnarna. Inte packadesomsillar-vagnarna)

Stora, rymliga och bekväma.
Trädetaljer och puffiga stolsdynor.

Lite mysigt liksom.

Lite som jag inbillar mig att det är att åka min önskedröm Orient-expressen om än i en extrem superlight-variant.

Och framförallt extremt mycket billigare.
SJ alltså.

Och drömma kan man ju alltid...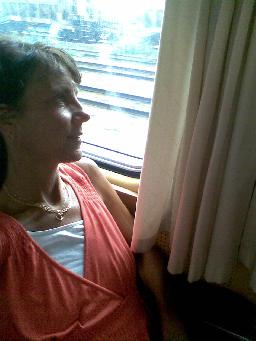 No comments yet to "Den kom igen - solen"
Add comment
No HTML allowed, only good old plain text. The Name, Comments and CAPTCHA fields are mandatory. Note that http:// will be added automatically to your URL.