Weblog #1553
Monday 2009-07-06 13:25
Author: Ingmarie Nilsson
Megalyx
Tänk dig att ha en hel 50-meters pool med åtta banor för sig själv.


Inte en endaste plaskande unge eller en endaste "dasslocks-simmare".
Inte ens en lojt simmande pensionär.

Så hade jag det i dag!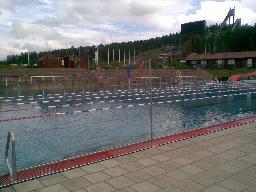 Förvisso kom det några till men som mest var vi fyra stycken så det går ju inte direkt att tala om någon trängsel. ;-)

Var annars än i Falun finns sådan lyx?
No comments yet to "Megalyx"
Add comment
No HTML allowed, only good old plain text. The Name, Comments and CAPTCHA fields are mandatory. Note that http:// will be added automatically to your URL.