Weblog #1629
Tuesday 2009-07-28 20:34
Author: Ingmarie Nilsson
Hungrig?
Eller "bara" ofantligt sugen på riktigt god mat som dessutom är nyttig! (Och naturligtvis vegetarisk.)


Är du dessutom just då i Stockholm så missa för allt i världen inte Hermans på Söder!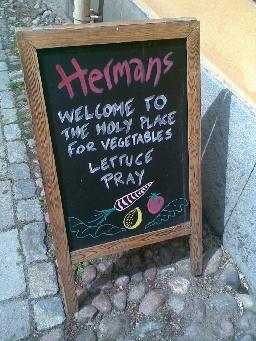 Gigantiskt stor buffé och alltid gott, fräscht, sunt och mysigt.
Finns plats att sitta både inne och ute.
Utsikten mot Djurgården får du på köpet.

Och du blir garanterat både mätt och belåten. :-)

(Ett annat tips är att gå med i Hälsofrämjandet som bl.a. gör att du får 10% rabatt på just Hermans. Hur bra som helst!)


No comments yet to "Hungrig?"
Add comment
No HTML allowed, only good old plain text. The Name, Comments and CAPTCHA fields are mandatory. Note that http:// will be added automatically to your URL.