Weblog #1852
Wednesday 2009-10-07 11:26
Author: Ingmarie Nilsson
Undra hur de tänkte..
Eller så tänkte de inte alls för den som konstruerade Tåg i Bergslagen (TIB) kan aldrig själv ha åkt tåg.

Det är de mest obekväma sätena som finns.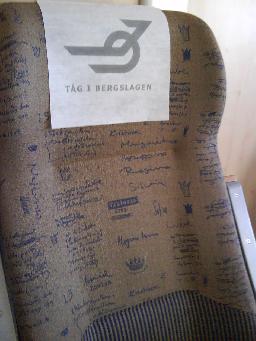 Man sitter som en fällkniv och de går inte ens att justera.
Efter hela resan Falun-Stockholm är ryggen verkligen allt utom glad.

Dessutom är biljetten snordyr.

Så hur tänkte den/de som gjorde de här tågen egentligen?





2 comments to "Undra hur de tänkte.."
Wednesday 2009-10-07 12:36
Tur att vi byter ut dem till det nya tåget jag är med och beställer då ;)
Wednesday 2009-10-07 22:34
Nix; Så DU har ett finger med i spelet? Se till att sätena går att fälla, stolsryggarna inte är gjorda för rakryggade personer och att sätena är MJUKA!:-)
När kommer de där nya tågen? Säkert lagom till jag blir 08-bo..;-)
Add comment
No HTML allowed, only good old plain text. The Name, Comments and CAPTCHA fields are mandatory. Note that http:// will be added automatically to your URL.