Weblog #1903
Wednesday 2009-10-21 16:56
Author: Ingmarie Nilsson
Påsdöd
Att

Elvira the cat

gillar

påsar

vet vi ju alla vid det här laget.


De är perfekta att gömma sig i men allra bäst är att verkligen ha sönder och göra mos av dem och jag kan svära på att jag hör hur hon skrattar!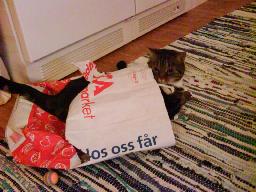 Det är något hon har fattat men inte jag...



4 comments to "Påsdöd"
Wednesday 2009-10-21 20:32
Eller missuppfattat. ;-)
Men deras vilja är vår lag. Det är så.
Wednesday 2009-10-21 21:03
Catarina; Ja och deras lag är vår lag...;-)
Thursday 2009-10-22 04:18
Ojojoj vilken liten sotnos! Min katt som jag hade (nar jag fortfarande bodde i Sverige...) gillade ocksa att springa in i pasar, speciellt papperspasar som prasslade. Mycket exotiskt!
Thursday 2009-10-22 10:10
Petra; Prassel är skoj!Och SNÖRE! Helt galet. Men tydligen väldigt kul!;-)
Add comment
No HTML allowed, only good old plain text. The Name, Comments and CAPTCHA fields are mandatory. Note that http:// will be added automatically to your URL.