Weblog #1911
Saturday 2009-10-24 08:23
Author: Ingmarie Nilsson
Mina nya vänner
Anna

som jobbar på

Aktiv Ortopedteknik

i

Falun

(

och som för övrigt jobbade på Vibes innan

) tipsade mig om att de fått in såna där fiffiga och superbraiga

"fillidutter"

till affären.


(Det heter med ett finare ord typ "framfots-stöd" eller "trampdyneplatta" men hur kul låter det?)

Jag har ju ett par sen innan som jag fått av min snälla "svärmor" men de här är lite annorlunda för de är gjorda av något slags stretchbart material. (Silicol?)
Och det kan ju aldrig vara fel att ha två par.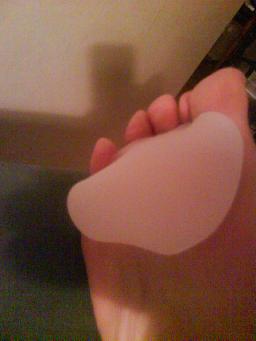 Photo: Ingmarie Nilsson


Tänk vad lite kan göra mycket!
No comments yet to "Mina nya vänner"
Add comment
No HTML allowed, only good old plain text. The Name, Comments and CAPTCHA fields are mandatory. Note that http:// will be added automatically to your URL.