Weblog #2159
Sunday 2010-01-24 15:31
Author: Ingmarie Nilsson
Paket!
Jag gillar verkligen presenter, både att ge och att få.
Även om jag vet att jag ska få det och vad det innehåller.
Så lättroad är som sagt var jag...;-)


Så trots att jag visste att det skulle komma så blev jag både överraskad och framförallt glad när denna stod vid dörren;



(I ärlighetens namn säga att jag hade glömt att det var i dag...Det berömda guldfiskminnet du vet...)
Nämligen väskan från Svarta lådan som jag vann
på Missa Agdas sida i december.

En hel dag med färdig mat, och då är det inte färdigmat i stil med den där sliskiga MC D eller något liknande, utan goda, hälsosamma och fullvärdiga måltider.

Och jag valde vego förstås! :-)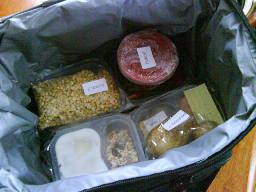 Photo: Ingmarie Nilsson


Vilken lyxdag det kommer att bli!
Kanske rent av farligt lyxig?

För undra just hur bortskämd det går att bli under bara en dag? Sånt där brukar ju gå hiskeligt fort!

2 comments to "Paket!"
Sunday 2010-01-24 23:09
Oj vad spännande! :)

Vad var det för smaskens i lådan? *nyfis*
Monday 2010-01-25 07:40
Pernilla; Kommer att visa snart. :-)
Add comment
No HTML allowed, only good old plain text. The Name, Comments and CAPTCHA fields are mandatory. Note that http:// will be added automatically to your URL.