Weblog #2189
Wednesday 2010-02-03 23:51
Author: Ingmarie Nilsson
Helt enkelt TOK-gott
I dag var inte bara en rolig dag.


I dag var även en god dag för jag fick detta supersmarriga surdegsbrödet av världens bästa Camilla.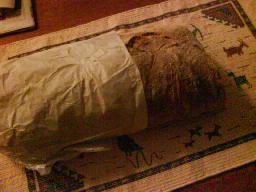 Tillsammans med mitt Yogi-te avnjöt jag det med pålägg som avokado, tofu, alfa alfa groddar och soja-cheddar ost.

Ruskigt gott och något jag lätt skulle kunna bli beroende av.

Fel!

Jag är ju för sjuttsingen redan beroende.
Och fort gick det med...

5 comments to "Helt enkelt TOK-gott"
Thursday 2010-02-04 06:01
http://www.alltomstockholm.se/restaurangbar/article236119.aos
Thursday 2010-02-04 09:42
Bröd bröd bröd = kärlek :D
Thursday 2010-02-04 09:45
Camilla; TACK!

Miranda; Eller hur!? :-)
Thursday 2010-02-04 20:53
Det ligger även en Fabrique på Scheelegatan, några hundra meter från oss. Jag hoppas att vi kan ha en liten nätverksträff hos mig någon gång och då bjuder jag på bröd därifrån!
Thursday 2010-02-04 21:28
Miss Agda; Åh det vore toppenkul! jag vill att ni kommer till mig med någon gång. Får försöka hitta något gott bröd här i krokarna med. :-)
Add comment
No HTML allowed, only good old plain text. The Name, Comments and CAPTCHA fields are mandatory. Note that http:// will be added automatically to your URL.