Weblog #2317
Thursday 2010-04-01 04:06
Author: Ingmarie Nilsson
Triss
Det finns minst tre riktigt bra löpartidningar här;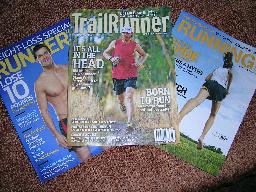 Nog borde RW få både lite konkurrens och vi mer alternativ i Sverige?
3 comments to "Triss"
Thursday 2010-04-01 07:57
Du vet redan vad jag tycker - svenska Runners World är till största delen rätt ointressant och layoutmässigt rent av ful. Dina artiklar är förstås alltid kanon!
Thursday 2010-04-01 10:47
Nu gillar jag visserligen RW (kanske beror på att jag är ett "blåbär" och inte läst den så himla länge..). Men visst skulle marknaden må bra av konkurens..

Glad Påsk!
Thursday 2010-04-01 17:14
Anneliten; Du är snäll du. :-) Och jag håller med dig till stor del. I synnerhet layouten.

Pernilla; Den är inte dålig men det behövs verkligen lite "mer och "annat" tycker jag.
Add comment
No HTML allowed, only good old plain text. The Name, Comments and CAPTCHA fields are mandatory. Note that http:// will be added automatically to your URL.