Weblog #2385
Tuesday 2010-05-11 22:54
Author: Ingmarie Nilsson
Lyckodag är löpardag är lyckodag! :-)
Att jag lyckades pricka in min löpardag på en av årets (hittills) absolut mest ljuvliga morgnar gjorde inte det hela direkt sämre. :-)


45 minuter non stop löpning utan någon som helst smärta.
:-D

Jag vet att jag brukar säga att jag "aldrig" avslutar mina pass på siffran "5" men det finns inga regler utan undantag.
"Skynda långsamt" är ett sånt undantag men om inget oförutsett händer så kan jag lova att veckosumman kommer att sluta på siffran 0. ;-)

Lite stelt var det men inte värre än att ett rejält stretch pass på PowerPlate fixade till det hela så nu är jag smidig som en gymnast.
Nästan.
På tal om PowerPlate så berättade coachen till proffs-boxarna jag hade på besök i går att det hade tyckt det varit "skitkul" men "sjukt jä..la jobbigt"!

Ha ha!
Och ändå var jag "ganska" snäll. ;-)

Lika härligt som i morse var det när jag tog mig hem i kväll.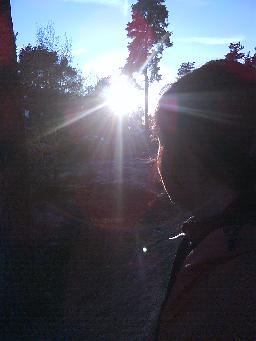 Det är svårt att tänka sig en ljuvligare tid än nu när grönskan spirar och vi har hela härliga sommaren framför oss!
2 comments to "Lyckodag är löpardag är lyckodag! :-)"
Wednesday 2010-05-12 00:39
Vad kul att du fått springa, och dessutom helt utan smärtkänningar! Jag blir så glad för din skull. =)
Wednesday 2010-05-12 09:44
Lisette; TACK! Och grattis än en gång till din fina ultradebut!
Add comment
No HTML allowed, only good old plain text. The Name, Comments and CAPTCHA fields are mandatory. Note that http:// will be added automatically to your URL.