Weblog #2387
Wednesday 2010-05-12 14:34
Author: Ingmarie Nilsson
Veckans (värdelösa) vetande
När våren började komma fanns plötsligt den här härliga hästen (?) i rondellen vid vårt hus;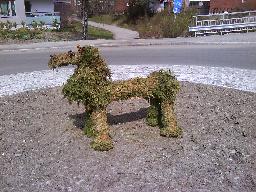 Tydligen passade det inte de styrande (kommun-gubbarna?) för nu är den borta. :-(
Skamligt, eller hur?
4 comments to "Veckans (värdelösa) vetande"
Wednesday 2010-05-12 14:52
Är det Lars Vilks som har varit i farten igen är det väl tur att den försvann snabbt annars kanske du hade fått skulden!? Och i ett sånt läge vore du nog tvungen att plocka fram överfarten sen mitten på 90-talet:-)
Wednesday 2010-05-12 19:31
Så orättvist! Vi har en i rondellen vid Rotebro, på väg norrut på E4:an. Den är betydligt fulare, men har fått stå kvar.
Wednesday 2010-05-12 23:46
Var det din tur att ha en "rotardag" i dag? :-)
Thursday 2010-05-13 00:07
Kenn1; Haha. Ja och det var så länge sedan att det är preskriberat!

Camilla; Skumt! Man undrar ju onekligen hur de tänker. OM de tänker! De där som bestämmer. Eller har de bara missat den fula?

Per; Vad hette det sa du? ;-) Vänta får du se....
Add comment
No HTML allowed, only good old plain text. The Name, Comments and CAPTCHA fields are mandatory. Note that http:// will be added automatically to your URL.