Weblog #2612
Wednesday 2010-10-13 04:10
Author: Ingmarie Nilsson
Veckans tänkvärda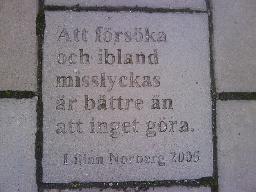 2 comments to "Veckans tänkvärda"
Wednesday 2010-10-13 18:59
Sant sant...men ibland krävs en hel del mod för att försöka.
Thursday 2010-10-14 01:47
Caroline Ö; Ja det är lika sant det...
Add comment
No HTML allowed, only good old plain text. The Name, Comments and CAPTCHA fields are mandatory. Note that http:// will be added automatically to your URL.