Weblog #2645
Monday 2010-11-08 19:33
Author: Ingmarie Nilsson
Click for a brick
Det är otroligt lätt att ta saker och ting för givna.
Människor med.
Och hälsan.


Det är som om vi måste bli påminda med jämna mellanrum för annars glömmer vi helt.
Antingen genom att vi själva eller någon i vår närhet blir skadade eller sjuka eller att något hemskt händer där vi blir drabbade eller involverade på något vis.

I alla fall är det så för mig.
När allt känns bra så rullar det ju liksom bara på.
Och på ett sätt är det kanske bra för jag tror att det hade varit ohållbart om vi ständigt gick omkring och tänkte på allt elände som kan hända.
Eller hur?

Mitt första tröskelpass på en halv evighet gjorde mig hur som helst både glad, tacksam och rejält trött i dag.
Kroppen är inte riktigt med på att kuta "fort" ännu men jag måste ju liksom börja någonstans.
Och jag hade ju lovat den fart denna veckan. :-)
(Allt är med som bekant relativt men det Garmin sa efter dagens pass tror jag inte ett skvatt på! Brukar du med få racertider?)



Att jag sen även hunnit med både ett riktigt tufft pass på Powerplaten och "lagompass" i bassängen gör ju inte dagen direkt sämre.

Men det är fler saker som jag med är oerhört tacksam över just i dag.

Nämligen att jag lever i ett land där alla har tillgång till sjukvård och där den anpassas beroende på hur stor eller liten du är.
Vi har specialister för barn såväl som vuxna.
Det är inte någon självklart.

Med risk för att bli tjatig så vill jag än en gång påminna om Toby Tanser´s projekt för att samla in pengar till Kenyas första barnsjukhus.

Toby är en av de mest beundransvärda människor jag känner och jag vet att pengarna helt och hållet går dit de ska.
Han har vigt sitt liv till detta, lever ett mycket enkelt liv och han jobbar helt ideellt och har redan bl.a startat två skolor.

Häromdagen fick jag detta mail som jag hoppas du vill läsa och fundera över.
Min förhoppning är att även ditt namn kommer att stå på en av tegelstenarna.

Big acts call for desperate measures!

Two years ago when I was sitting, drinking a cup of coffee, I heard there was no kids public hospital in Sub Saharan Africa (800-million).
I could not believe it.
Being currently poor, without medical insurance, no full time job save unpaid charity work I was not your prime candidate to stand up and say "yes".
Yes to building the first.

Well, no one else would and with all these Aid conferences crying about changing the tragic child mortality rate in Sub Saharan Africa I figured this would be a great place to start...

A place where the actual syringes, face masks etc are for kids and where the kids don´t sit behind the adult patients;.
A center, it´d be a teaching center too, so hooking up with an existing adults hospital, (est and running since 1917), partnering with the Government so I have no sustainability issues, in a campus that receives millions of dollars for "research" (no chance of corruption as the pepfar/gates/usaid research money have done years upon years of vetting, auditing, ongoing checking)

In short, it is perfect!
In fact in the words of the big charity folks I keep on meeting, it is "inspired."

Yet as always funding is the issue.
So two years ago I emailed seven friends.
"Can you pledge something, anything, so I can have at least a few names on my wall of fame to build the hospital, so my name is not all alone?"
Yes
And now we have thousands of names, and over $900,000
I ONLY need one million to begin digging!

So my latest and greatest fund raiser is not running just the NYC Marathon, as I did last year with a Shoe4Africa team, this year I will runt he marathon as a warm up.
Then I fly to Africa, go to the African Coast (where I was attacked ten years ago and left for dead), then run.

Not for a hospital to treat my open head wounds as I did then, but now to run for a hospital to help the nation of not only Kenya, but also the children of Southern Sudan, and Eastern Uganda (for that is the catchment area of 11-million people).
I will keep running till one of three things happen;
1. I drop and break a leg.

2. I get eaten by lions as I run through the Tsavo game park.

3. I reach the top of Mt. Kilimanjaro (Africa´s highest peak), which is the plan with from the Sea to the Stars to commit to breaking ground.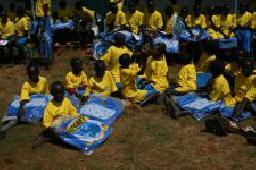 Photo: Shoe4africa.org


Now to say every dollar counts is never so more true than in this story (we had less than $800 after that first email).
My commitment is total.
I work full time on this project, and other Shoe4Africa projects (school building, education events, women empowerment races, Aids Awareness programs) so much that it takes up all of my time, from dawn till nearly dawn the next day.

As I don´t pay myself I am getting poorer by the month, and as a former girlfriend pointed out;
"Make friends with the people of the slums in Nairobi as that is where you are ending up", which might well be the case...
(Gone from the Upper East Side to Harlem this past year, step by step.)

But hey, at least I will have a hospital to go to!

Thus please, if you can, open the door for me, and really a donation is more important than the amount!
(Ignore that if your name is Alicia Keys.)
Then go to Shoe4africa and punch in the number!
There´s a generation of children with no health care highlighted by the horrid statistic that 4/5 kids who die in Kenya do so without EVER seeing a health care provider in their entire, too short, lives.
/Toby
5 comments to "Click for a brick"
Monday 2010-11-08 20:10
Vilket bra projekt skickat en ny tegelsten till dom idag!

Vet inte om det där med Garmin och racertider ..... hoppas att dom stämmer för min skull ; -)

Har din älskade några planer på att sätta sig in i hur du programmerar dina egna löprundor i Garmin 310xt så får han gärna dela med sig.

Peace Love och Löparskor!
Tuesday 2010-11-09 09:00
Det är galet vad musik kan framkalla. Vissa stunder kommer känslor bara över en och först i efterhand förstår jag att det var för attjag lyssnade på en speciell låt med speciella kopplingar. Men också lukt! Det var intressant!

Och intressant värre det du skriver om ovan. En tegelsten ska skickas.

Borde också ha en tacksamhetsvecka. Eller månad. Att tänka på det underbara. Smart värre :)
Tuesday 2010-11-09 09:58
Jeppepeppe; Vad bra! Alla tegelstenar är guld värda!
Jag ska framföra din önskan till älsklingen men kan du precisera mer hur du menar?

Maria;Visst är det! Det är som att kastas bakåt i tiden med en faslig kraft! Häftigt och lite läskigt med...
Jättebra att även du skickar tegelsten! Tack!
Tuesday 2010-11-09 21:38
Första gången jag köper en tegelsten. En som kommer till nytta.
Tuesday 2010-11-09 22:16
anneliten; Nu blir jag GLAD!
Add comment
No HTML allowed, only good old plain text. The Name, Comments and CAPTCHA fields are mandatory. Note that http:// will be added automatically to your URL.