Weblog #2839
Tuesday 2011-04-19 17:48
Author: Ingmarie Nilsson
I stället för
Det hade varit

perfekt

att ta en tur med

Sunnen

i dag när det skulle vara "alternativpass-dag".


Strålande sol, lätt vind och lite småtrött efter första nattens jobb.
Men eftersom ju någon/några pucko tyckt annorlunda och därför snott den av mig så blev det inget med det.

Bittert.
Och surt.
Är fortfarande både ledsen och arg!
Må den/de ruttna i helvetet!
Idioterna.

Så istället blev det till att ta tanthojjen till Eriksdalsbadet för ett vattenlöpningspass.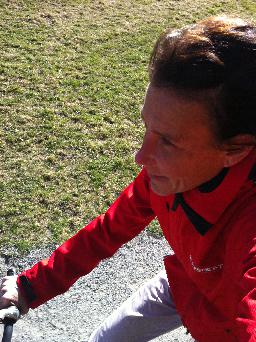 Och även om det inte är riktigt samma sak som att susande få trampa fram ute på skogsvägarna så är det ett väldigt bra substitut.
Absolut ett av de bästa. :-)

Ja så bestämmer jag.
Inte samma sak men ändå väldigt bra.
Och ännu bättre blir det när utebadet öppnar igen. :-)

No comments yet to "I stället för"
Add comment
No HTML allowed, only good old plain text. The Name, Comments and CAPTCHA fields are mandatory. Note that http:// will be added automatically to your URL.