Weblog #3089
Friday 2011-11-18 20:03
Author: Ingmarie Nilsson
Veckans tänkvärda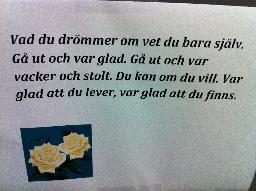 2 comments to "Veckans tänkvärda"
Friday 2011-11-18 20:11
Jag är glad att Du finns :)

Kram kram - ha en mysig helg
Friday 2011-11-18 22:47
Jona; Åh, det värmer mitt hjärta! TACK! Och jag är glad att du finns. :-)
Add comment
No HTML allowed, only good old plain text. The Name, Comments and CAPTCHA fields are mandatory. Note that http:// will be added automatically to your URL.