Weblog #3452
Friday 2012-10-12 18:02
Author: Ingmarie Nilsson
Till salu
Mina

fötter

är och ser ju ut som de gör och att hitta skor som passar är snudd på omöjligt.

Därför säljer jag dessa två par sprillans nya Adidas pjux.


Adidas adiSTAR Raven W US 9 (41, 1/3).

adiSTAR Raven ger grym dämpning och ett härligt stöd åt ditt löpsteg.
Hög slitstyrka och perfekt fäste.

If your idea of trail running is more about running through wilderness and less about the path commonly traveled then grab a pair of the adistar Raven.
A balistic nylon upper helps protect the feet from jagged rocks and other protrusions.
A mud release surface along the top of the midsole helps shed mud so you can focus on your run and not stop to scrape it off.
The sticky rubber and adiWear outsole provides great grip in wet or dry and soft or firm conditions.
So forget about the conditions and just go run.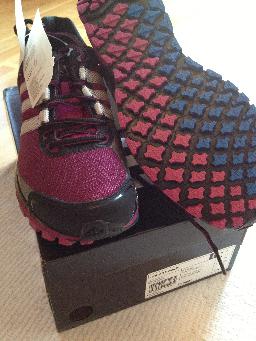 Adidas S Nova Riot 3 W. Stl; US 8,5 (40,2/3.)
Adidas Snova Riot 3 W Gtx är en mycket bekväm terränglöparsko i Gore-tex.
Skon är extra rörlig i framfoten för en mjuk övergång i steget.
Gummiförstärkningen i sulan ger extra skydd, god hållbarhet och strålande grepp.
Photo: Ingmarie Nilsson


Pris; Endast 500 kr/par.

Jag har även ett vattenlöpningsbälte kvar.
Storlek medium.
(Du kan läsa mer om vattenlöpning t.ex. här.)
500 kr för det också.


Photo: Ingmarie Nilsson


Allt finns i Stockholm men grejerna är både flytt- och skickbara så frakten löser sig även om du inte bor i närheten.
Kontakta mig antingen direkt här eller via mail; Ingmarie17atgmaildotcom
2 comments to "Till salu"
Saturday 2012-10-13 06:37
Jag har en spekulant på Riot. Spara lite på dem, är du gullig! ;)
Saturday 2012-10-13 09:45
camilla; Absolut! :-)
Add comment
No HTML allowed, only good old plain text. The Name, Comments and CAPTCHA fields are mandatory. Note that http:// will be added automatically to your URL.