Weblog #3593
Tuesday 2013-02-19 06:07
Author: Ingmarie Nilsson
Postpaket
Jag
älskar
att få paket från
Holistic
.
Bra, rena och stärkande produkter rakt igenom.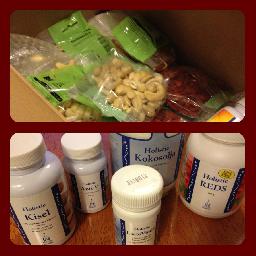 Photo: Ingmarie Nilsson


Du vet väl att du enkelt och smidigt kan beställa alla deras grejer här hos mig? :-)
2 comments to "Postpaket"
Tuesday 2013-02-19 20:55
Oj. Kanske Anders och Elvira hinner äta upp allt det goda innan du är hemma igen :-) Men då är det väl bara att beställa nytt förstås.
Wednesday 2013-02-20 07:41
anneliten; Det får de så gärna för då blir de piggeliner!
Add comment
No HTML allowed, only good old plain text. The Name, Comments and CAPTCHA fields are mandatory. Note that http:// will be added automatically to your URL.