Weblog #3731
Friday 2013-06-28 06:32
Author: Ingmarie Nilsson
Lästips
Mycket möjligt att det dröjer tills jag får internetkontakt igen men gråt inte för det.


I senaste numret av Stark Magasin (nr 3) kan du läsa min artikel om ultradrottningen Kajsa Berg.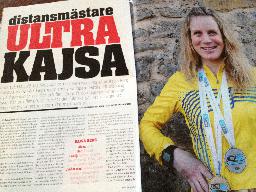 Plus att du i senaste numret av Runner´s World (juli/augusti) kan läsa min artikel "Elitidrott på barnens bekostnad".


Photo: Ingmarie Nilsson


Om du sen även läser alla de andra sidorna i tidningarna så har du garanterat fått mycket läsvärt.

Enjoy!
No comments yet to "Lästips"
Add comment
No HTML allowed, only good old plain text. The Name, Comments and CAPTCHA fields are mandatory. Note that http:// will be added automatically to your URL.