Weblog #4172
Tuesday 2014-09-09 21:33
Author: Ingmarie Nilsson
Salming
En av alla fördelar med att ha löpcoachning som jobb är att jag "måste" testa olika skor.
Eller snarare jag blir erbjuden att testa.
Om man ska hårddra det så finns det ju egentligen inga "måsten".


Hur som haver löparen kär, mina fötter är ju som bekant en smula klena.
Hittills har inga andra skor passat mina kräsna fossingar förutom Newton som funkar till 100%.
Men nu blev jag alltså erbjuden att testa Salmings löparskor och efter allt gott jag hört om dem så ville ju jag såklart också prova dem.
Faktum är att jag har ett par Speed redan men i fel storlek.
Svårt att testa då...

Men nu har jag bytt till rätt storlek och dessutom fått ett par Distance som jag invigde redan i dag på Run Speedplay-passet.



Och minsann!
Med mina sulor från Anatomic så kändes de riktigt bra!
Fortsättning följer. :-)

Extra kul denna dag var att hänga på Runner´s Store och snacka om allt och inget med en massa andra löparnördar. :-)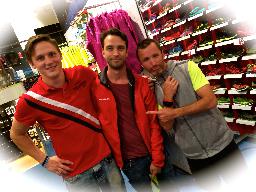 Photo: Ingmarie Nilsson
Photo: Ingmarie Nilsson
2 comments to "Salming"
Tuesday 2014-09-09 22:09
Jag har deras Race och Speed. Älskar ffa de förstnämnda, men även Speed gör ett bra jobb.
Wednesday 2014-09-10 09:20
Helena Z: Coolt! Visst är det härligt när man hittar rätt sko! :-D
Add comment
No HTML allowed, only good old plain text. The Name, Comments and CAPTCHA fields are mandatory. Note that http:// will be added automatically to your URL.