Weblog #4259
Thursday 2014-12-04 07:44
Author: Anders Gustafson
International Cheetah Day
Dags för ett inhopp på bloggen från mig igen. Idag är det
International Cheetah Day
och vill du göra en insats för geparden, så är idag ett bra tillfälle (precis som alla andra dagar).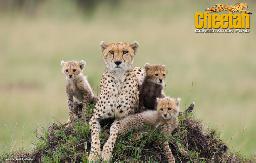 Läs mer på Cheetah Conservation Fund (CCF) och på min sida.

Ha det himmelskt och ta hand om er.

Possunt nec posse videntur

No comments yet to "International Cheetah Day"
Add comment
No HTML allowed, only good old plain text. The Name, Comments and CAPTCHA fields are mandatory. Note that http:// will be added automatically to your URL.