Weblog #4438
Monday 2015-06-01 20:07
Author: Ingmarie Nilsson
Junisol med nya utmaningar

Denna månads fartlek kallas "The kenyan high". Ett progressivt pass som är kul som attan och en rejäl utmaning för både kropp och knopp.
På köpet fick vi (äntligen) barbensväder!



Annat var det i morse.
Absolut inget barbensväder. Snarare mössväder.
Fast jag höll mig åtminstone till badmössan. :-)

Jag är evigt tacksam för att jag kunnat investera i en våtdräkt för annars hade det inte blivit många längder simmade.
Jag må bada året runt men det är en helt annan sak. Innerst inne är jag ju faktiskt en fryslort.


Photo: Ingmarie Nilsson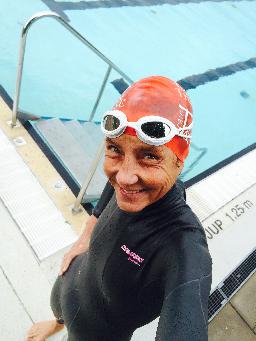 Photo: Ingmarie Nilsson
Photo: Ingmarie Nilsson


June is here and it´s summertime.
Welcome sun!

P.s. Om du vill vara med på något Sats-pass så hör av dig för jag kan (oftast) ordna gästplats. :-) D.s.
2 comments to "Junisol med nya utmaningar"
Tuesday 2015-06-02 15:58
The kenyan high låter apkul. Synd att det är så långt till Stockholm, för en gästplats hade inte suttit fel. Kommer du köra kenyanen i Halmstad i sommar tro?
Tuesday 2015-06-02 19:47
Anna (orka mera): Någon av oss bor på fel plats. ;-) Men såklart kör vi i Halmstad!!!!
Add comment
No HTML allowed, only good old plain text. The Name, Comments and CAPTCHA fields are mandatory. Note that http:// will be added automatically to your URL.