Weblog #4586
Monday 2015-10-26 20:48
Author: Ingmarie Nilsson
Månhög
Det är inte riktigt alltid det sker men nästan alltid.
När det är fullmåne så blir jag som dopad av något som gör mig snudd på odödlig och jag känner mig högre än både Burj Khalifa och Shanghai Tower tillsammans.

Särskilt bra är det när det sammanfaller med måndag och fullspäckad (jobb)vecka.
Har varit så effektiv i dag att det är nästan ruskigt och jag ska därför bespara dig detaljerna.

Det jag dock kan berätta är att jag redan grejat tre riktigt snygga armhävningar och på Coach-passet i kväll var jag i en snabbare grupp än vanligt och tyckte det kändes busenkelt.


Photo: Ingmarie Nilsson
Photo: Ingmarie Nilsson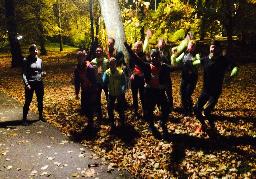 Photo: Ingmarie Nilsson


Kanske är det en tillfällig odödlighet. Kanske är jag superdödlig i morgon.
Men vem bryr sig liksom?
I dag är i dag och det är skönt att vara stark! Eller hur?

Kram från Ingmarie.
2 comments to "Månhög"
Tuesday 2015-10-27 14:03
Härligt! Själv brukar jag sova så dåligt under fullmånen!
Tuesday 2015-10-27 21:43
Jonna: Ibland gör jag det med men nu är jag snudd på medvetslös. Därför jag är extra pigg antar jag. :-)
Add comment
No HTML allowed, only good old plain text. The Name, Comments and CAPTCHA fields are mandatory. Note that http:// will be added automatically to your URL.