Weblog #4668
Friday 2016-01-15 18:17
Author: Ingmarie Nilsson
Transportlöpning
Det här med transportlöpning är ändå himla käckt!
Slippa tuben och spara massor av tid!
I alla fall om man har en snäll sambo som fraktar två tunga väskor med ombyteskläder dit man själv ska transportera sig.
För så mycket behövdes en dag som denna när termometern visar -17 och man har aktiviteter efteråt som kräver annan klädsel än träningskläder.


För vilken dag!
Bra fäste, nästan vindstilla och strålande sol. Kan nog inte bli mycket bättre en helt vanlig vinterdag i Sverige!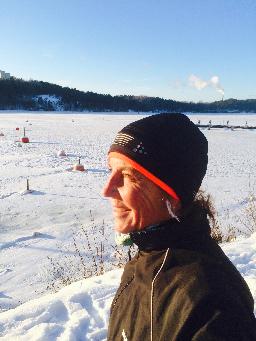 Photo: Ingmarie Nilsson
Photo: Ingmarie Nilsson


Tuffade på i hyfsad fart men man får ta det varligt med både halka och kyla. Finns ingen anledning att pressa på och riskera något tänker jag.
Väl framme väntade ännu en belöning (löpningen i sig är ju en belöning bara den) i form av ett alldeles magiskt bra Yin yoga-pass.
Love it!


Photo: Ingmarie Nilsson


I morgon blir (hoppas jag) sista snö och kylpasset innan nästa vinter.
I morgon far vi nämligen västerut. Länge.
Hoppas du hänger med på ett hörn.

Kram från Ingmarie.
2 comments to "Transportlöpning"
Friday 2016-01-15 22:23
Klart jag hänger med. Även om jag önskar att det var på ett hörn i din resväska och inte bara så här på internettet :)
Saturday 2016-01-16 09:22
Anna (orka mera): Du är dock välkommen om du kan! :-)
Add comment
No HTML allowed, only good old plain text. The Name, Comments and CAPTCHA fields are mandatory. Note that http:// will be added automatically to your URL.