Weblog #4779
Tuesday 2016-05-03 20:38
Author: Ingmarie Nilsson
Colours
Egentligen behöver man inte liva upp någonting någonstans nu för naturen gör det så himla bra själv.
Det är nästan så man kan höra hur det växer och knakar och färgerna fullkomligt exploderar!
Nu går det undan och det gäller att hänga med.
Blinkar vi för många gånger finns risken att vi missar hela vårfesten.


Men jag gillar ändå att ha färgglada kläder och jag blandar hej vilt utan någon som helst tanke på vad "som passar sig" eller inte.
Ju mer ju bättre är min filosofi verkar det som när man kollar vad jag har på mig.
Helt ärligt har jag ingen filosofi. Mer än att jag tar det som jag tycker känns bra.

Dagens, och de flesta andra dagars, baddräkt ser ut som amerikanska flaggan x 48. Köpt i USA så det är väl därför.



Dagens Hot Mojo-stass. Gul handduk, gult linne med rött tryck och rosa brallor.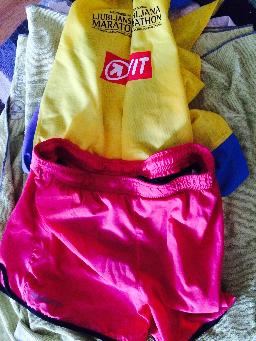 Photo: Ingmarie Nilsson


Dagens UT-dress (och min egen löpnings dress för jag kutade dit) var gul, röd, gröngul och lila.


Photo: Ingmarie Nilsson
Photo: Ingmarie Nilsson
Photo: Ingmarie Nilsson


Färgblind eller färgglad.
Gränsen är hårfin.
Eller kanske det helt ligger i betraktarens ögon?

Kram från Ingmarie.

No comments yet to "Colours"
Add comment
No HTML allowed, only good old plain text. The Name, Comments and CAPTCHA fields are mandatory. Note that http:// will be added automatically to your URL.