Weblog #509
Sunday 2008-09-28 18:06
Author: Ingmarie Nilsson
Den är här nu
De som vet säger att den är tidig i år.
Hösten.


Och nog både känns och syns det att det är så!

Jag gillar hösten!
Färgerna.
Luften.
Att det liksom lugnar ner sig.
Allt går in i sin "vanliga" lunk.
Ingen stress efter solen, playan, grillpartyna eller allt som man tycker ska hinnas med på den fjuttiga ledigheten.

Hösten hade gärna fått dröja sig kvar tills snön kom.
Ingen grå november utan från höstfärger till vintervitt direkt.

Pang på bara!

Visst vore det toppen?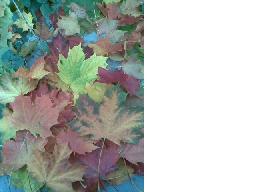 Photo: Ingmarie Nilsson
No comments yet to "Den är här nu"
Add comment
No HTML allowed, only good old plain text. The Name, Comments and CAPTCHA fields are mandatory. Note that http:// will be added automatically to your URL.