Weblog #572
Wednesday 2008-10-15 17:37
Author: Ingmarie Nilsson
Vibbglädje
Det är inte bara trötthet och elände här i Falun.


Anna på Vibes är en hejare på att hitta på grejer så jag får annat att tänka på.


30 sekunder av en ny magövning, eller något annat "skoj", och jag vet att jag både lever och kan få ont någon annanstans än i tanden.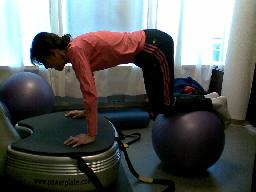 Photo: Privat
Photo: Privat


Det är inte bara jobbigt utan otroligt kul med.
Och gladast av alla är mina fötter.
No comments yet to "Vibbglädje"
Add comment
No HTML allowed, only good old plain text. The Name, Comments and CAPTCHA fields are mandatory. Note that http:// will be added automatically to your URL.