Weblog #576
Friday 2008-10-17 10:17
Author: Ingmarie Nilsson
Olika lampor
Ute skiner solen, men här hemma hos oss i Falun lyser mest flitens lampa.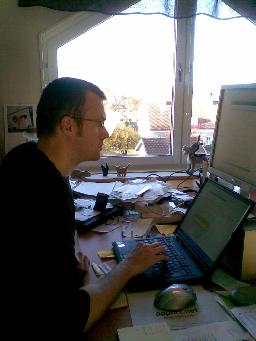 Photo: Anders Gustafson


Min ena artikel är nästan klar. Ska "bara" banta ner den rejält.
Vilket är lättare sagt än gjort...
Det finns ju så mycket att berätta!
På journalistspråk, och utvecklarspråk, kallas det kill your darlings, och det är precis vad det är.

Och vem vill döda sina älsklingar? ;-)

2 comments to "Olika lampor"
Friday 2008-10-17 16:09
Du blir alltid så bra på kort
Friday 2008-10-17 20:17
Åh jisses! Tycker jag ser ut som en tok! Men jag är ju en toker så det är väl rätt då... ;-)
Add comment
No HTML allowed, only good old plain text. The Name, Comments and CAPTCHA fields are mandatory. Note that http:// will be added automatically to your URL.