Weblog #608
Saturday 2008-10-25 22:31
Author: Ingmarie Nilsson
Kopp à la USA
Innan jag skulle sätta mig på tåget hem till Falun så hade jag lyckan att få träffa vännen Catharina på en fika.

Det var på tok för länge sedan vi sågs, åtminstone enligt mig, och jag blev verkligen jätte-super-duper-mega-glad att hon hade tid och möjlighet i dag trots extremt kort varsel.

Hon är så himla cool!
En människa som inspirerar och gör mig glad!
Glömde t.o.m. bort mina onda fötter där ett tag.

Lyckades hinka i mig en kopp med kaffe som måste vara bland det största som går att få tag på i Sverige.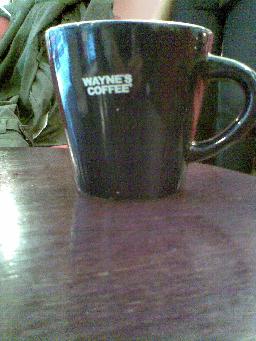 Photo: Ingmarie Nilsson


I USA är de förvisso alltid lika gigantiska men där är kaffet, för det mesta, så himla svagt att det ändå bara är som en vanlig normal kopp Java här.


No comments yet to "Kopp ā la USA"
Add comment
No HTML allowed, only good old plain text. The Name, Comments and CAPTCHA fields are mandatory. Note that http:// will be added automatically to your URL.