Weblog #629
Saturday 2008-11-01 18:57
Author: Ingmarie Nilsson
Man kan göra mycket på snön
På väg hem från (inomhus) poolen på

Lugnet

fastnade jag en stund vid

skidstadion

.


Helt vitt snö, och ganska mycket med, men i stället för en massa skidåkare kryllade det av cyklister.
Jodå!
Jag var varken onykter, hallucinerade eller hade fel på ögonen. ;-)
Det är helt sant!

I dag och i morgon är det nämligen Vittoriacrossen.
Dagens tävling var den femte deltävlingen i Northwawe CX-Cup.

Riktigt coolt!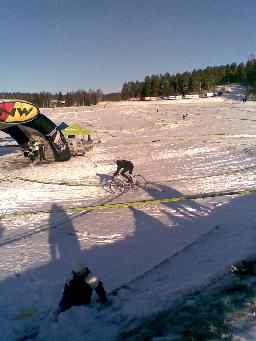 Tuff bana och det blev ju inte direkt enklare av att det fanns både snö och hinder "i vägen".

Blev riktigt sugen på att testa...
Snö är ju mjukt att falla i. ;-)
Men lugn, lugn.
För det första hade jag aldrig ens platsat att få vara med, och för det andra skulle jag inte ens våga!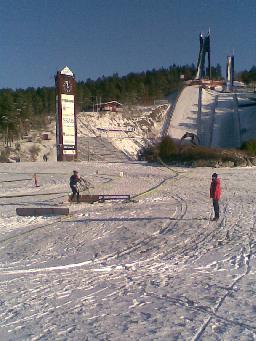 Photo: Ingmarie Nilsson



Det blev ett två timmars spinningpass på Friskis i Falun i stället.
Grymt bra!
Typ det bästa Friskispass jag någonsin varit på!
Och jag har ju varit på en del.
Maria som hade det är en "pådrivare" och "peppare" nästan i klass med spinning-Glenn.
Men hon har en bit kvar.
Egentligen en ganska lång bit för att vara riktigt ärlig...
No comments yet to "Man kan göra mycket på snön"
Add comment
No HTML allowed, only good old plain text. The Name, Comments and CAPTCHA fields are mandatory. Note that http:// will be added automatically to your URL.