Weblog #775
Saturday 2008-12-06 21:13
Author: Ingmarie Nilsson
Så var det slut på det roliga

Helt obegripbart att tiden har gått så fort!
Tyckte precis att jag började.
Men nu är det roliga slut, jag klarade kursen och har därmed fått (ännu) ett urtjusigt intyg att sätta upp på väggen. :-)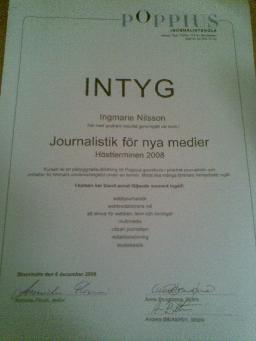 Hela kursen har varit helt otroligt bra och jag är mer än nöjd.
Lärarna, Anna Bengtsson och Anders Bäckström har varit helt suveräna!
Kunniga, pedagogiska och oerhört inspirerande!
Bara att säga grattis till Poppius som hittat dessa riktiga äkta underbara pärlor!
(Skulle kunna fortsätta med superlativen ett bra tag till men då skulle det bara bli patetiskt till slut...)

Rekommenderar verkligen kursen om du är intresserad av just nya medier.

Åh, vad jag kommer att sakna dessa lördagar.
Det har inte ens varit jobbigt att gå upp tidigt.
Och när det kommer från mig är det absolut det högsta betyget något/någon kan få.
No comments yet to "Så var det slut på det roliga"
Add comment
No HTML allowed, only good old plain text. The Name, Comments and CAPTCHA fields are mandatory. Note that http:// will be added automatically to your URL.