Weblog #835
Monday 2008-12-22 19:29
Author: Ingmarie Nilsson
Det nya spinningmodet
Bara så ni vet. Spinnings/cykelskor är hopplöst ute från och med i dag.


Detta är vad som gäller: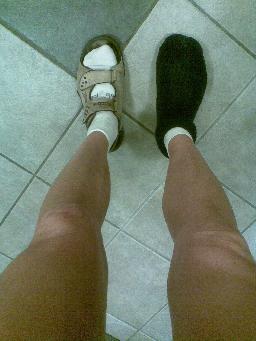 Funkar hyfsat.
Men det är klart, riktigt lika bra "driv" som med cykelskor blir det inte.

Å andra sidan var det inte meningen heller.
Det var mer att jag trampade med på ett baspass på Friskis.
Bättre än inget.
Och benen är gladare! :-)
No comments yet to "Det nya spinningmodet"
Add comment
No HTML allowed, only good old plain text. The Name, Comments and CAPTCHA fields are mandatory. Note that http:// will be added automatically to your URL.